The garlic root concave cutting machine is used for cutting fresh and dry garlic roots. It can feed the garlic by the conveyor. The cutting depth of this Garlic root concave cutting machine will be adjusted automatically according to the garlic with different sizes. After cutting, garlic will be smoother. It operates very easily and has high efficiency.
Garlic root concave cutting machinery working principle
This garlic root cutting machine is configured with a circular knife with a high cutting speed. The blades will not produce fever and without any damage to the garlic. After cutting, the garlic root will be a concave circular arc. The root will be more clear and the efficiency is high.
Features of garlic root cutting machine
You can control the cutting depth freely by adjusting the dial with this concave garlic root cutter.
This machine has "Automatic Recognition Function", which could automatically adjust knife according to garlic size. If you set up cutting depth with 0.2 cm, all of different sizes garlic will be cut down 0.2 cm.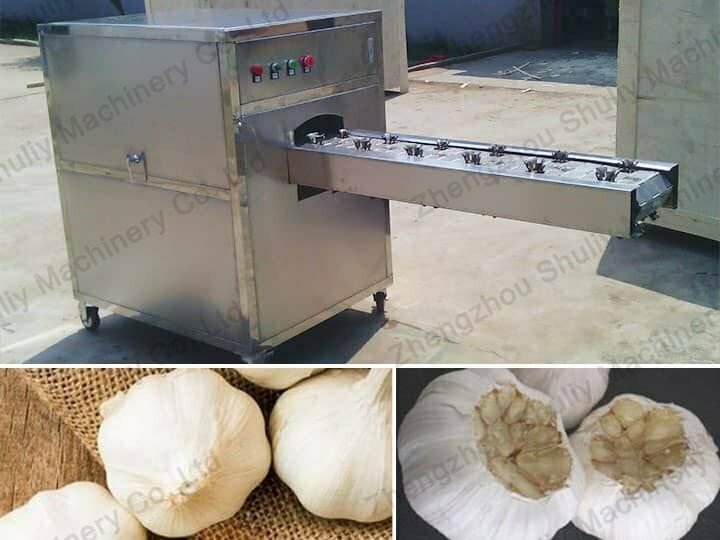 Garlic shape after cutting
The concave garlic root cutter cuts off the garlic roots, and the cut garlic roots have a concave shape. Another garlic root cutting machine provided by Shuliy supplies another garlic root cutting machine, it is specialized in cutting garlic root and stem. And this garlic root cutter is used to cut off the dried garlic roots. Using this method to remove the garlic root, the removal amount is small and the removal is clean.
Garlic root concave cutting machine parameters
| | |
| --- | --- |
| Dimension | L*W*H 2250*800*1320mm |
| Packing size | 2300*850*1470mm |
| Packing Weight | 185KG |
| Voltages | single-phase 220V/380V |
| Cutters | 2 pieces |
| Capacity | 400-500Kg/H |
| Air supply | 0.4Mpa 2 cube meter per min. |
| Material | Stainless steel 304. |
The garlic root cutting machine has 2 sets of blades, and the output of garlic processing can reach 400~500kg/h. It needs the same air source as the garlic peeling machine. The whole machine is made of food grade 304 stainless steel.