The garlic powder grinding machine is a multifunctional powder grinder machine. It adopts stainless steel and is used to grind dry materials. Such as spices, pepper, chili, ginger, garlic, coffee beans, cocoa beans, herbs, tea, wheat, chemical raw materials, dried fruits, etc. It is widely used in food, feed, chemical industry, medicine, and agriculture.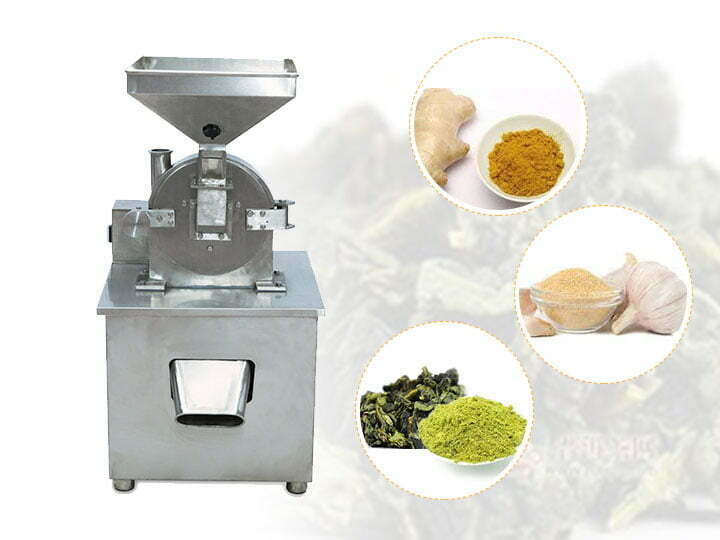 Garlic powder grinder machine application
The machine is very popular in the crushing of materials in the pharmaceutical, food, chemical and other industries. The powder grinder machine is very popular in crushing pharmaceutical, food, chemical, and other industries. The raw materials of the stainless steel grinder are usually garlic, ginger, various seasonings, tea, Chinese herbal medicines, such as astragalus and angelica. Suitable for food and beverage factories, farms, restaurants, home use, food stores.
Working principle of the garlic powder making machine
The garlic powder making machine uses the relative movement between the movable toothed disc and the fixed toothed disc. The garlic or herbs will be crushed by the impact of the toothed disc, then they will be made into powder.
Advantages of the ginger garlic powder grinding machine
Complete size specifications can meet the crushing needs of different raw materials.
The stainless steel grinding machine has simple structure, low consumption, uniform crushing and easy cleaning.
The machine uses stainless steel, with long service life, safety and health.
Parameters of stainless steel garlic grinder
| | | | | | | | | |
| --- | --- | --- | --- | --- | --- | --- | --- | --- |
| Type | 15B | 20B | 30B | 40B | 50B | 60B | 80B | 100B |
| Production capacity (KG/H) | 20-150 | 40-200 | 80-400 | 100-800 | 150-1000 | 250-1500 | 350-2000 | 500-3000 |
| Crushing fineness (Mesh) | 20-120 | 20-120 | 20-120 | 20-120 | 20-120 | 20-120 | 20-120 | 20-120 |
| Motor Power (KW) | 2.2 | 4 | 7.5 | 11 | 15 | 22 | 30 | 37 |
| Spindle speed (R/Min) | 6000 | 4500 | 3800 | 3400 | 3000 | 2800 | 2400 | 2000 |
| Weight (KG) | 150 | 280 | 340 | 450 | 600 | 900 | 1250 | 1580 |
| Size (MM) | 550*400*850 | 600*550*1250 | 700*600*1450 | 900*800*1550 | 1050*850*1750 | 1100*900*1880 | 1200*950*2000 | 1350*1000*2100 |